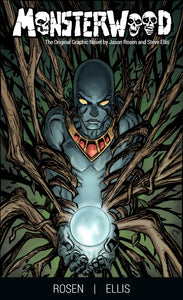 Skinwalker Studios Brings High-Fantasy Graphic Novel – Monsterwood – to Kickstarter
NORWICH, CT (PRWEB) JULY 30, 2014
Skinwalker Studios, the Connecticut-based transmedia company, is pleased to bring its Monsterwood graphic novel to the crowd-sourcing platform Kickstarter. Conceived as a trilogy, the first 60-page volume of Monsterwood tells the story of Jovis, a scrappy, independent young commoner, and the Princess Jocosta, a willful heir to the throne, as they journey into the dark and forbidding forest known as Monsterwood to uncover long buried secrets of murder and betrayal. Their opposition? Maniacal monsters, fanatical fiends, and sinister forces!
Monsterwood was conceived by Jason Rosen and further developed by two-time Emmy winner, Louise Gikow (Disney, Jim Henson Productions). The graphic novel is illustrated by Harvey award-winning fantasy artist, Steve Ellis (The Only Living Boy, Dungeons & Dragons).
"My experience with creating artwork for Monsterwoood is a joy. I believe that Jason has a really unique and fun project on his hands, which is why I've devoted so much time making the world a reality. I'm finding myself able to take all the painting and creature work I've done over the years in games, like Dungeons and Dragons and World of Warcraft, and mix in the storytelling skills I developed working in comics. It's a wonderful adventure," notes Ellis.
Beyond the completed graphic novel, the campaign offers other exclusives and limited edition rewards, including maquettes busts, glicees of pre-production concept paintings, and hand drawn illustrations by Steve Ellis.
"As creator of Monsterwood, this is not 'just' a graphic novel property. It has taken a few very talented people and myself years to hone and perfect. It is a classic 'coming of age' story about our heritage, our destinies, and our legacies. And – of course – it's filled with gnarly monsters, epic battles, and mythic themes of Good vs. Evil," Rosen explains. "If you love all things Harryhausen, Henson, Star Wars, and all that 70's and 80's heart and soul storytelling goodness of those times, then you will love this series."
The Kickstarter campaign runs until August 17th.
To learn more about the campaign, please head to:
http://www.monsterwoodcomic.com
Requests for interviews can be sent to jrosen14(at)comcast(dot)net
Download a free copy of the the Monsterwood Prologue at NoiseTradeBooks:
http://books.noisetrade.com/jasonrosen/monsterwood
View a video of the Monsterwood Project on Vimeo - http://vimeo.com/101801577
About the Creative Team:
Jason Rosen is creature/character designer, sculptor, puppeteer/performer, and the creator of Monsterwood. As founder of SKINWALKER STUDIOS, he has designed/sculpted/ and/or provided special effects for NBC /Universal, Paul Gerrard, Chiller Channel, Synthetic Cinema, Side-Fx Studio, Swamp Ape Studios, Fonco Creative, Directors Wes Craven, A.D. Calvo, Colin Theys and others.
As an illustrator, Steve Ellis has created artwork and conceived projects for companies such as Wizards of the Coast, Marvel, DC Comics, AMC, Scholastic, Rogue Entertainment, Blizzard Entertainment and many others. He is the co-founder of Bottled Lightning, the studio behind the best selling, critially-acclaimed series, The Only Living Boy.
About the Studio:
Skinwalker Studios specializes in storytelling and in the concept, design, and creation of astonishing character and creature effects, special makeup effects, basic animatronics, and action props. Learn more: http://skinwalkerstudios.com/
Read Full Article Here - https://www.prweb.com/releases/monsterwood/kickstarter/prweb12057756.htm
---